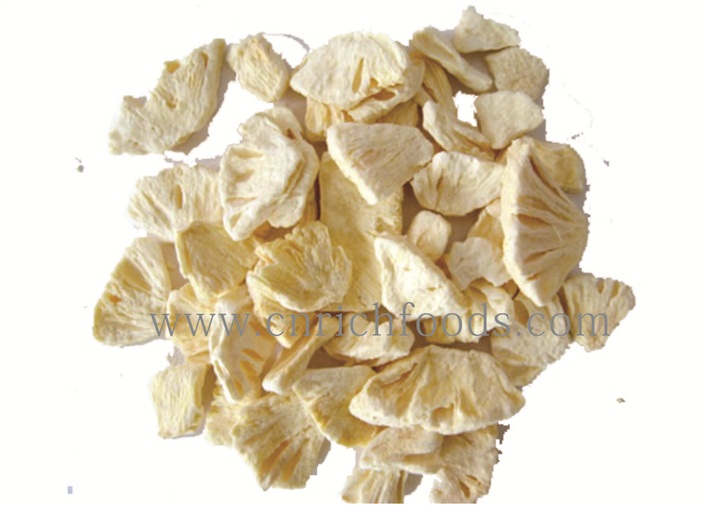 PART 1. Main Parameters Of Freeze Dried Pineapple

Style: Dried

Type:

Pineapple

Shape:

Slices, Dices

Drying Process: FD

Cultivation Type: Commo

n

Flavor:

Sweet

Moisture:5%
TPC: max 10000CFU/g

Shelf Life:

18

months

Specifications:
Slices: 5~7mm cut
Dices: 5*5*5mm, 10*10*10mm
PART 2. About Orders
A. Place of origin: China
B. Supply capacity: 1000 tons
C. Minimum order quantity: 20 feet full container load, Products can be mixed
D. Terms of payment: T / T,L / C,FOB,CIF
E. Delivery time: 2 weeks after receiving the advanced payment
F. Packing: carton export standard carton packing
G. Mode of transport: sea transportation(for large scale)/air transportation(for small amount)
H. Storage condition: Please store in cool and dry place.
PART 3. Product Description
A. Freeze dried fruits are made by the means of vacuum freeze drying. This kind of fruit keeps its original appearance, color, aroma, taste and nutritional ingredients to a large extent. With good water reabsorbing capacity and zero additive, freeze dried fruit is an ideal natural health food.
B. Freeze dried pineapple is rich in fructose, glucose, Vitamin B, Vitamin C, phosphorus, citric acid, protease and other substances. Thus it is very nutritious.
C. Freeze dried fruit are generally used for direct consumption, brewing, adding as food supplement, baking and so on.
PART 4. Why Choose Us
A. Strong company strength
We are a professional exporter of dehydrated vegetables and fruits with an eleven-year history. We have partners from Germany, the United Kingdom, Russia, Poland, Ukraine, Latvia, Czech republic, Brazil, the United States, Canada, Argentina, Malaysia, etc. Some customers are suppliers of famous companies such as Unilever, Nestle, Mcdonald's, Burger King, Heinz, etc .
B. Good quality
We have strict quality control system, independent lab and several certificates, including ISO 22000, HACCP and KOSHER, etc. What's more, there is no preservative, additive and colorant. Thus the product is dependable.
C. Free sample
If you are interested in our dehydrated products, welcome to email us and we can send free samples to you.
D. Competitive price
We can offer competitive price. When you become our regular customers, you deserve more favorable price and flexible payment options.
E. Timely delivery
Usually we'll effect delivery within two weeks after receipt of your advance payment.