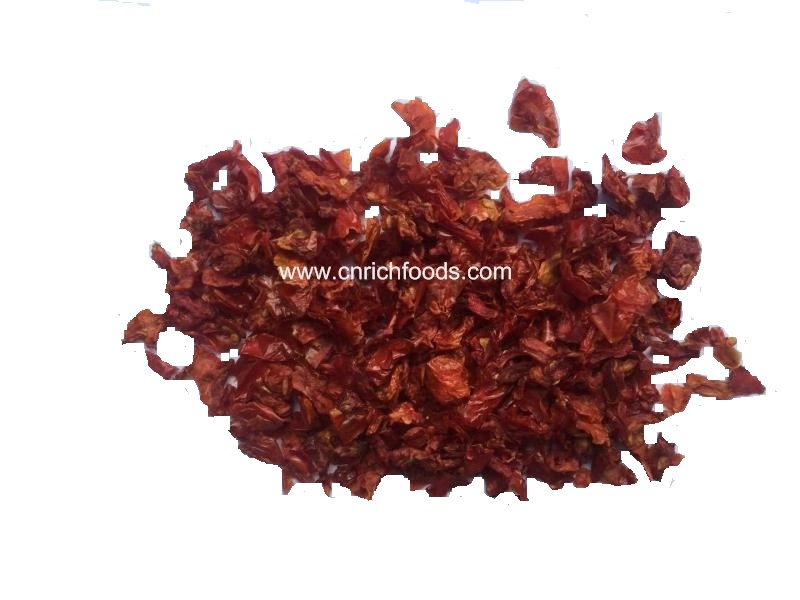 PART 1. Main Parameters Of Dehydrated Tomato/ Air Dried Tomato

Style: Dried

Type:

Tomato

Moisture:

max 7

%

Drying Process: AD
Net weight:17.25-23MTS/40'FCL
Shelf Life: 2 years
Specifications:
Flakes: 1-3mm, 3*3mm, 5*5mm, 6*6mm, 9*9mm, 10*10mm
Powder: 40mesh, 80mesh, 100mesh
PART 2. About Orders
A. Place of origin: China
B. Supply capacity: 1500 tons
C. Minimum order quantity: 20 feet full container load
D. Terms of payment: T / T,L / C,FOB,CIF
E. Delivery time: 2 weeks after receiving the advanced payment
F. Packing: carton export standard carton packing
G. Mode of transport: sea transportation(for large scale)/air transportation(for small amount)
H. Storage condition: Please store in cool and dry place.
PART 3. Product Description
A. Compared with fresh vegetables, dehydrated vegetables have some unique advantages, including small size, light weight, quick restoring in water, convenient storage and transportation. This kind of vegetables can not only effectively adjust vegetable production season, but also still keep the original color, nutrition and flavor, which tastes delicious.
B. Dehydrated tomato/ air dried tomato contains vitamins and minerals, which can protect cardiovascular system. Besides, eating tomatoes can prevent arteriosclerosis, hypertension, coronary heart disease and kidney disease. Besides, it has anti-aging effect.
C. It can be used in the seasoning package of convenient food, fast food vegetable soup, canned vegetables and vegetable salad, etc.
PART 4. Why Choose Us
A. Strong company strength
We are a professional exporter of dehydrated vegetables and fruits with an eleven-year history. We have partners from Germany, the United Kingdom, Russia, Poland, Ukraine, Latvia, Czech republic, Brazil, the United States, Canada, Argentina, Malaysia, etc. Some customers are suppliers of famous companies such as Unilever, Nestle, Mcdonald's, Burger King, Heinz, etc .
B. Good quality
We have strict quality control system, independent lab and several certificates, including ISO 22000, HACCP and KOSHER, etc. What's more, there is no preservative, additive and colorant. Thus the product is dependable.
C. Free sample
If you are interested in our dehydrated products, welcome to email us and we can send free samples to you.
D. Competitive price
We can offer competitive price. When you become our regular customers, you deserve more favorable price and flexible payment options.
E. Timely delivery
Usually we'll effect delivery within two weeks after receipt of your advance payment.